With all the debate on Ingram's potential, this is something I've worked on today to show why I don't think he will be effective playing alongside LeBron next season.
1. Putting Up Decent Stats on a Bad Team Doesn't Mean Much
Obviously taking that statement to the extreme is pointless. I don't mean anyone can put up big numbers on a bad team, just that it's not something to get excited about when people are claiming Ingram rapidly become an all star that helps lead us to a championship. The only argument I've seen being made on here to support Ingram is the potential for improvement given his 2nd year statline, and I'm merely trying to say that on a 35 win team, I don't think it means much. Obviously scrubs will be scrubs, whether they're on a good or bad team. But like Tyreke Evans, plenty have fallen into the trap of not being able to keep up their production when it counts. Michael Cater-Williams is another example you might remember. Honestly though, we don't have to look further than our own players, who we overrated not too long ago.
Clarkson as a Laker put up 14/3/3 and of course was highly touted as a guy who could "take and create shots in the NBA." Of course when it came time to play against legit teams in the playoffs, with LeBron spoonfeeding him, mind you, his stats plummeted to 5/2/1. This was also against bench players, not starters. You can look up the same for Larry Nance.
Now I get it, Ingram and Clarkson are not at all the same players. I'm just trying to show that CONTEXT is king. Being able to create your own shot is a different story when it's on a bad team versus a playoff caliber team.
2. Ingram's Improved Statline Didn't Contribute Much to Our Increased Win Total
One of the most common arguments I hear in favor of Ingram is that his production increased from season 1 to season 2, and we won a bunch more games, so therefore he was effective and will continue to get better.
When you talk about improvements - again context matters. Ingram did improve, no doubt, and was giving more playing time to boot. However skillset wise, I think he didn't expand in the areas I would have liked him to (more on this later). In terms of the team improving, of course we did, but you have to also understand that we acquired new players who contributed in some part to this (e.g. KCP, Lopez). You also can't understate Randle's impact - who was probably the most responsible for our late season victories.
Now, we all know I hate advanced stats, but if you want to talk about Ingram's improvement contributing to wins objectively, we can look at some:
His WS was 7th on the team last year. WS/48 was 13th. He was 10th on the team in ORPM and 13th in DRPM - so again, I don't see a meaningful contribution to our win total from his statistical improvement.
3. Just Because Other Players Put Up Worse Stats in Their Second Year, Doesn't Mean Ingram will Become As Good
I see this infographic or similar ones posted way too often: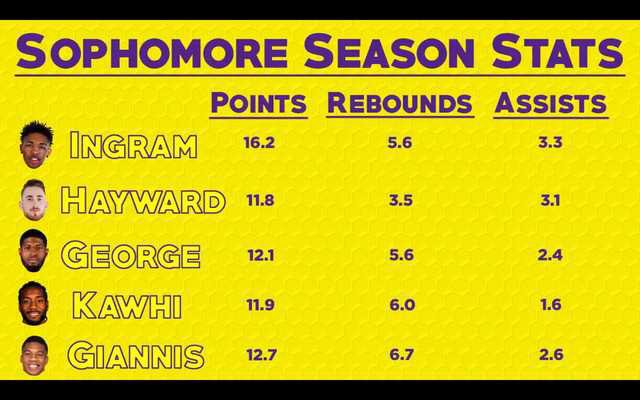 I'm going to focus on comparisons to George, Hayward, and Paul Pierce, as these are 3 common players I've heard to show that Ingram is on a superstar track.
What matters though, is the context of these stats. We need to consider the system they were produced in. Time for a deeper dive, first looking at Ingram:
Like I've said, he tries to be a slasher and isolation player in the Laker offense, but his shooting is a huge bottleneck, forcing him to drive to the rim every time. Teams that are smart know exactly what's coming, and can contain it. His lack of upper body strength also leads to repeated injuries because he can't finish through contact. I also don't think we will use him as a primary ball handler in the PnR next season, especially when we have Rondo, LeBron, and even Ball. However, because everyone was enamored with his ability to play point guard.
You can see that a good defensive team like the Raptors employs drop coverage on Ingram here out of the pick and roll, forcing him to shoot midrange, where he was ineffective last season.
The other option is to just pull up from 3 (like the below GIF), but Ingram's stroke and gather makes him take way too long to get this shot off:
If you want him to play off ball, like I do, then his hesitation to shoot open 3 pointers is a huge problem:
Now for the glorious numbers (these are a hair outdated, but bare with me)
Looking at Ingram's spot ups, he was in the 12th percentile for no dribble jumpers. But when attacking the basket, it jumps to the 74th percentile. Playing off ball with LeBron, I don't see much effectiveness taking open looks. But attacking closeouts, you can see that he has some skill there. Of course when defenses know this, they can easily anticipate this and force him into help (Draymond is elite at doing this to non shooting threats on the perimeter). I've also mentioned the injury concerns that go along with this.
4. Ingram vs. Paul George (2nd year)
Right off the bat, you can see that Ingram and George played somewhat similarly. However, he was used much more often in the PnR, and was pretty poor in that regard compared to George. As a shooter, while George's percentiles were not as favorable in the above table, the foundation was there. He shot 39% from 3 on 3.5 attempts per game, and over 80% from the free throw line.
Overall, at both getting to the rim and shooting from the perimeter, George's abilities clearly exceeded Ingram's at that point. And, this was all done on a playoff caliber team.
Defensively, as well, George had the upper hand, being 3rd on the Pacers that year in DBPM. Not to mention the Pacers took the Miami Heat to 6 games in the playoffs, with George playing respectable as well. Most knew at the very least, George would be a defensive stopper... we can't say the same about Brandon Ingram at this point.
I also want to point out that Frank Vogel notably was a terrible offensive coach. We all saw it with the Indiana teams. There was very little motion to the Pacer's offense, and it relied on George to create off the dribble repeatedly. That actually makes George's output here, all the more impressive.
5. Ingram vs. Gordon Hayward (2nd year)
I don't have synergy stats for Hayward's 2nd season at the moment, but we can follow a similar blueprint...
In his second season, you can see that Hayward had the tools to become a very good shooter, with a decent clip from 3 at 35%, but more importantly a very good FT% at above 83%. While both finished well at the rim in their second season, you can see that Hayward stats from 3-10 ft, 10-16 ft, and 16-3pt line all exceeded Ingram's. The foundation for him to be a threat from the outside was well established at this point.
Corbin played a similar flex offense to Sloan, but shifted focus to the post significantly more - 17.1% of their possessions in Corbin's first season finished with a post up, compared to less than 10% in Sloan's final season. This stifled Hayward's offensive ability overall. Other than his assist rate, which eventually rose to 24%, his ability wasn't unlocked until the Jazz started leaning on him more to penetrate.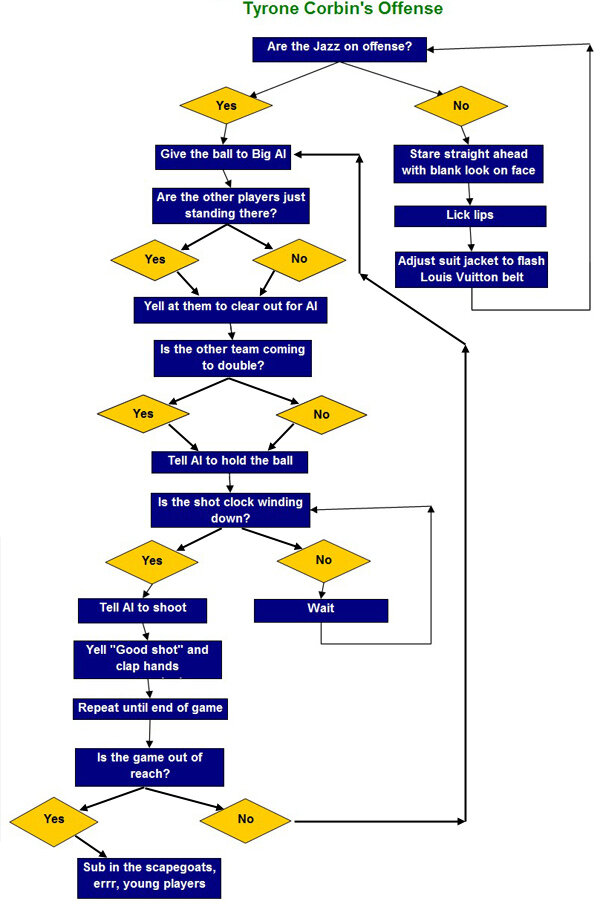 Stats don't exist for pick and roll possessions back in the 2011-2012 season, but if you watched the Jazz, you know that Hayward wasn't given the ball much in positions to attack, as the offense deferred to Jefferson and Milsap. Rather he was the recipient of a lot of assists out of the post (majority of his shots that season were assisted). Contrast that to Ingram's, whose shots were not (i.e. he was already given the green light to attack, rather than defer).
It took a change in their strategy to realize Hayward's ability. In contrast, Ingram has already been given the trust Hayward never had under Corbin, but hasn't made use of it.
Defensively, like George, it was clear back then that Hayward was very gifted. He held a prime Kobe to 6-18 shooting in a game against the Lakers ( Jazz were not a good defensive team, but the skills were there. Anybody who watched the Jazz knew that back then. Again, Ingram's defense is a question mark at this point.
6. Ingram vs. Paul Pierce (2nd year)
I'm actually surprised Pierce is ever used as a comparison, because other than his 2nd year statline, there is nothing similar about how they played or their skills. Pierce was a much larger forward, who could play physically and bully his way to the basket. He was also slower, and never a good defender. Ingram is a more finesse player, preferring to use his speed, length, and quickness to attack.
Pierce scored 19 or more points in 10 of his first 11 games in the NBA. By his third season, he was averaging 25/6/3 as the primary option on the Celtics. I don't think anyone expects Ingram to be capable of that next season. The Celtics being bad was true no doubt, but it was clear Pierce was good enough to be a primary option to lead his team to a championship very early on. And Pierce had more college experience under his belt at that point in his career, so I don't know why he is used as an example. Putting up empty stats on a bad team doesn't mean much, but when a player like Pierce is able to put up 25/6/3 and drag a pathetic Celtics team to that many wins, it's very obvious those aren't "empty" stats, especially when he's the primary option on a team where defenses every night were catered to stopping him.
Pierce has little to no similarity to Ingram at any point in his career, so I won't continue the in depth analysis any more for the sake of brevity.
7. Conclusion
I understand what Magic, LeBron, and even Walton see. Ingram is very good at getting to the rim. However, this style of play is going to lead to injury, because he can't sustain that degree of contact over the rigor of an 82 game season without more upper body mass, which he can't gain in one offseason. Eventually, he will get there, but relying on him to generate points via penetration is asking for him to get injured again. We have no problem criticizing player's on other teams for being injury-prone, like Chris Paul, so why can't we do the same with our own guys when it's clear their playstyle is the cause of this.
The alternative is for Ingram to be an off ball spot up shooter and cutter. However, he doesn't cut much off ball (partially Luke's fault), and is a horrible spot up shooter, preferring to pass up open shots to attack close-outs, which again, ties back into my previous point.
With LeBron, Ingram can either play the role an elite perimeter scorer who can create on his own (Wade, Irving), a legit spot up threat (Bosh, Love), or a defensive stopper. At this point, he has failed at showing he is capable of fulfilling any of these roles. And I don't think he will be effective next year for these reasons.
In my opinion, we are lacking elite perimeter scoring and lockdown perimeter defense. I wish Ingram would focus on developing these aspects of his game, but I am not convinced based on his trajectory so far, than he will do so in the next 1-2 seasons. The coaching staff, front office, and Ingram himself seem to be forcing him into the type of player who can be a perimeter oriented ball handler and create for others in the pick and roll. But that's not his game - not yet anyways - and could potentially lead to a disappointing start of the season if he doesn't realize it.
Edited by bfc1125roy, July 20, 2018 - 07:06 PM.