http://www.bloomberg...-like-kobe.html

Lack of activity has a cost, too. The Centers for Disease Control and Prevention estimates that childhood obesity has more than doubled in children and tripled in adolescents in the past 30 years. In 2010, more than a third of American children were obese or overweight. Those figures may be compelling for parents, but Bryant noted that kids need to be motivated in a different way.

"It's hard to tell a kid that you need to get out there and compete because it's going to decrease your chance of having diabetes 30-40 years from now," he said. "No kid wants to hear that."

Instead, he says we should lure kids to sports by encouraging their competitive spirit -- an approach you'd expect from one of the most competitive people on the planet. Bryant echoed the lament of many who think we've let our kids get soft by giving them participation awards that send the message that showing up is achievement enough. (Of course, a lot of those people live in places like Texas, where getting kids to show up isn't the problem.)

What Clinton and Bryant seek is a middle ground between raising a generation of kids who don't care about winning and those who care about nothing else. The benefits extend beyond health: Kids who participate in organized sports gain confidence while learning leadership and how to follow directions as part of a team. Team sports teach skills that translate from the locker room to the board room, and are especially important for helping young girls become power women in male-dominated industries.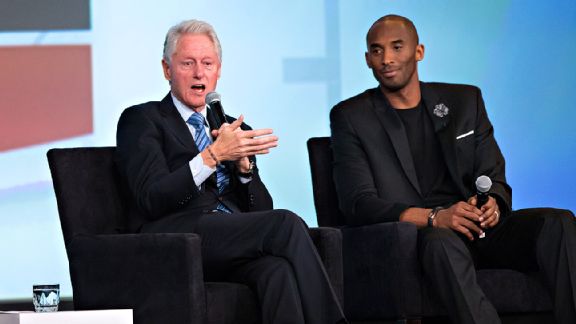 FULL ARTICLE inside link.
http://espn.go.com/l...ey-youth-sports