I was just like many in the beginning thinking this game was overrated & overhyped, but it turned out to be just another example of don't knock it until you try it, and boy, I'll tell ya, once I did at my cousin's house, first time, it was some of the most fun I've ever had period. Like Weezy said, absolute genius idea. I soon got the game about 1 or 2 weeks later with the money I received from my birthday/Christmas and played it addictively. I even got on some site a lot of times bragging and talking obsessively about this game and unfortunately not many responded, but usually Nelo Ice. You rule! Haha. I don't play it as much now, but that's pretty much now cuz I've done every song, including purchasing most of the good ones available via the DLC, but I'm still down to play every now and then. I can't wait for the new game though cuz I just want a whole new mess of songs already. The 2-6 or 7 range a week isn't good enough for me.
This game definitely deserves its own thread. Most of the people who knock it have never tried it so they can't really knock it justfully. What's funny is a lot of people who aren't necessarily into rock are the ones that think that way, then when they do actually somehow try it, a lot of em' change their mind. You don't even have to be a big rock fan, or rocker dude stereotype thing, anybody & everybody can love this game. It's that fun and addicting. Still, to this day, I've never tried the guitar. I guess I'm just lazy to try it, but I'm all singing & that's natural to me so not much of a challenge there, oh crap I'm bragging, apologies.., but the drums are fun as heII.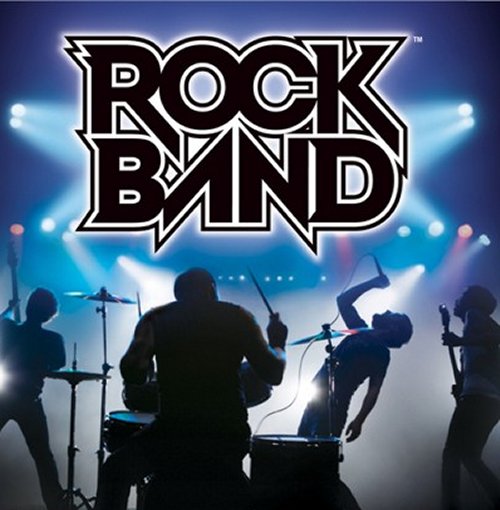 Another brilliant idea that's being talked about for the future of this game is finding a way to implement a feature where you can somehow make your own music and even send it out to the public via internet/xbox live and have it availabe. That's got soooo much potential, it's astonoshing. Think about all of the many possiblities. It's kinda like when people make their myspace music pages with their own music to get their stuff out & what not.. but of course not only can you be original, but you can do covers, anything you want.. you can create.. BUT all that being said, as cool as a lot of that would sound, it's not as easy as it sounds they say, but they are trying to the best of their capabilities to find a way to get it done sometime in the future.
Also, rumors confrim they will most likely be adding a new instrument of which will be a keyboard for a Rock Band sometime in the future. That sounds awesome to me. Tons of keyboard use in a lot of different kinds of Rock, but what excites me most off the top of my head is, THE DOORS. Mwahahaha.. awesome.
WARNING SPOILERS:

ROCK BAND 2 SONGS LEAKED:
http://kotaku.com/50...-2-songs-leaked
http://www.gamespot....amp;sid=6193296
Full track list for Rock Band 2:
http://blog.wired.co...omplete-ro.html
My favorite songs from that list:
01. AC/DC Let There Be Rock 1970s
02. AFI Girl's Gone Grey 2000s
03. Alanis Morissette You Oughta Know 1990s

05. Allman Brothers Ramblin' Man 1970s

08. Beastie Boys So Whatcha Want 1990s
09. Beck E-Pro 2000s

11. Billy Idol White Wedding Pt. I 1980s
12. Blondie One Way or Another 1970s
13. Bob Dylan Tangled Up in Blue 1970s
14. Bon Jovi Livin' on a Prayer 1980s

18. Disturbed Down with the Sickness 2000s

20. Duran Duran Hungry Like the Wolf 1980s
21. Elvis Costello Pump It Up 1970s
22. Fleetwood Mac Go Your Own Way 1970s
23. Foo Fighters Everlong 1990s
24. Guns N' Roses Shackler's Revenge 2000s
25. Interpol PDA 2000s

28. Jimmy Eat World The Middle 2000s
29. Joan Jett Bad Reputation 1980s
30. Journey Anyway You Want It 1970s

32. Kansas Carry On Wayward Son 1970s

35. Linkin Park One Step Closer 2000s
36. Lit My Own Worst Enemy 1990s

40. Metallica Battery 1980s
41. Mighty Mighty Bosstones Where'd You Go 1990s
42. Modest Mouse Float On 2000s
43. Motorhead Ace of Spades 1980s
44. Nirvana Drain You 1990s

48. Pearl Jam Alive 1990s
49. Presidents of the USA Lump 1990s
50. Rage Against the Machine Testify 1990s

52. Red Hot Chili Peppers Give it Away 1990s

56. Smashing Pumpkins Today 1990s
57. Social Distortion I Was Wrong 1990s
58. Sonic Youth Teenage Riot 1980s
59. Soundgarden Spoonman 1990s

62. Steve Miller Band Rock'n Me 1970s
63. Survivor Eye of the Tiger 1980s
64. System of a Down Chop Suey 2000s

66. Tenacious D Master Exploder 2000s

69. The Go-Go's We Got the Beat 1980s

71. The Guess Who American Woman 1970s

73. The Offspring Come Out & Play (Keep 'em Separated) 1990s

75. The Who Pinball Wizard 1960s
Ah, but as great as this list may be, you love your old RB1 tracks and just don't want to give them up. Fear not. All downloadable content will work with Rock Band 2 and gamers can export tracks from Rock Band 1 to RB2. That's right -- from day one you can bring all RB1 tracks into RB2 to compliment your DLC as long as you own a PS3 or an Xbox 360 with a hard drive.
That is absolutely brilliant and FANTASTIC.
And there's more. Harmonix actually wanted to toss in 100 tracks total for the disk, but couldn't get them all in one time to ship for Xbox 360 by September. So this fall, MTV is releasing an additional 20 downloadable master tracks... for free. By year's end this will mean RB fans will have access to more than 500 songs.
rock band 1 instruments work with guitar hero world tour(360)
http://kotaku.com/50...and-instruments
guitar hero world tour instruments are gonna be compatible with rock band 2(360)
I've never actually played Guitar Hero, but I hear they're starting to try & make it more like rockband where in it's more than just guitar and that intrigues me deeply.