DATE: TBD
Main Event:
Floyd Mayweather Jr. vs. Manny Pacquiao
Undercard:
TBD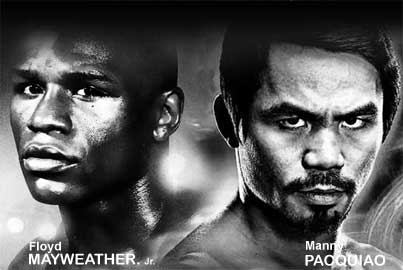 http://www.youtube.com/watch?v=JwTIZzzGZLE
By Michael Marley of The Examiner, special to BoxingScene.com

Arum: We Can Make Mayweather-Pacquiao in November

"No question now, especially since both of their last fights are perceived as walkovers, that 99.5 percent of the public wants to see Manny Pacquiao fight Floyd Mayweather next. Those two bouts were not competitive because both guys are so good.

"This is the biggest fight of all time, Mayweather against Pacquiao, and it has to happen. Now the fight is doable.

"I mean, out of 100 people, over 99.5 percent want this fight next. The other .5 percent, they don't care and they don't really give a spit. With any big fight, there is a right time to make the fight.

"The public demand reminds of when Muhammad Ali fought Joe Frazier the first time in 1971 so you have to do everything you can (as a promoter) to support that, to make it happen.

"I had my doubts on Mayweather wanting it but now Floyd now genuinely wants the fight against Manny. Floyd knows you can't putter around. For right now, I will not talk about negotiations and I won't go into negotiations showing my cards. These issues have to be talked about in private, not in public, and that was the mistake by Mayweather's people last time we tried to make it.

"I don't want that to happen again. If everything goes well, a good time for that fight would be November, that would be a perfect time."

That is what just landed promoter Bob Arum said upon his arrival here after flights from Las Vegas to Manila and then Manila to Pacman's hometown.

Dazzling Darlene Antonino-Custodio, who "knocked out" Manny Pacquiao in his first electoral foray in Gensan, is now running for an expected to be elected mayor of boxer's hometown, General Santos City (Michael Marley Photo)

Arum arrived just in time, about 10 a.m. Thursday local time, to head out for an afternoon political rally in Sarangani as his Congressional campaign against billionaire Roy Chiongbian winds down. Voting for the office takes place, along with many other local and national elections including a battle for the Philippine presidency, on Monday.

Arum said something that he's told me before, that he will never go against the Pinoy Idol's political ambitions because the fighter is drawing on divine inspiration.

"Manny credits all his success to God, he really does," the 78 year old Arum said. "Manny really feels he has a calling from God to run for office and to help the people, especially the poorest of the poor.

"It is not window dressing with Manny, it's a real spirituality just like another of my fighters, the rabbi to be and world junior middleweight champion, Yuri Foreman. Manny believes he is being directed by God so you cannot try to push him in another direction.

"My role is to be supportive here, I am not here to talk about (Floyd) Mayweather or any other fights. I did not come here with any fight offers, for Mayweather or anyone else. I don't want to distract Manny from the election campaign.

"I'm here, in a limited way, as his political adviser," Arum said, joking. "So I am a would be James Carville in this election."

Arum said a misguided report that Pacman would fight Mayweather on Sept. 10 is "totally absurd.

"Who could properly stage such a big fight so close to Labor Day? I don't know where that one came from."

Arum said he took Lunesta 3, a sleeping medication, to make his 13 hour flight from Vegas with a stopover in Vancouver easier to bear.

"They treat me great on Philippine Air Lines," Arum said. "I have made nine trips over here to see Manny. They all know me.

"My only job here is to see that the new congressman from Sarangani gets elected, meaning Manny Pacquiao.

"When I get back to the States, after the elections here, I will go to work on the Mayweather fight. As a foreigner here, I am restricted and rightly so, from political participation. I am just here in support of Manny's ambition which is to help his own people."

Arum said that should Pacman grant Mommy Aleng Dionesia's wish that he retire from the ring, he will also support that.

"I personally don't see that," Arum said. "But, if Manny makes that decision, I will support it. I will throw him a big retirement party but I don't think this is what he will do."
http://www.boxingsce...m=show&id=27556

Edited by HipHopOpotamus, May 06, 2010 - 06:41 PM.