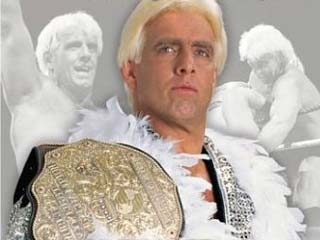 Surprised no one's posted this
The wife of 16-time world heavyweight champion wrestler Ric Flair was arrested following a domestic violence incident at their North Carolina home, police told TVGuide.com.

Jacqueline Bains Beems was arrested Sunday and charged with misdemeanor assault, Taylor Frazier of the Charlotte-Mecklenburg police said.


No actual weapons were used in the attack, but Flair, who turns 61 on Thursday, suffered minor injuries, the police report said. He refused treatment at the scene, according to the report.

Contrary to news reports, Flair was not hospitalized, the office of his agent, Melinda Morris Zanoni, told TVGuide.com.

"Ric and his wife had an unfortunate disagreement [Sunday], which led to his wife being arrested and charged with assault," Morris Zanoni said in a statement. "Ric has done nothing wrong. The important thing to remember here is that we have some very exciting professional announcements in the near future. Ric finds this incident unsettling and is committed to correcting any issues in his personal life."


Bains Beems is Flair's fourth wife. The pair married in November.

Flair, whose real name is Richard Fliehr, is best known by his ring moniker "Nature Boy" and his signature "Woooo!" catchphrase. He retired in 2008 after a 36-year career and was inducted into the WWE Hall of Fame.


Edited by MAMBA24ILL, February 25, 2010 - 09:22 AM.