I love Kobe Bryant's role on the Redeem Team. He is the defensive stopper; Coach K assigns Kobe the task of defending the opponent's best perimeter player. Kobe has not disappointed, doing a fabulous job neutralizing his man in most games. Also, in the pre-Olympic game against Russia, Team USA came out struggling after halftime; Kobe turned on his offensive switch as he had his biggest quarter of the pre-Olympic games and kept Team USA in front of the Russians. He will be a MAJOR reason why Team USA will win gold at the Olympics. But back in Lakerland...
Kobe's role on the Lakers is to be the main scorer. In the upcoming season, he will receive help in the scoring department from an up-and-coming Bynum, an all-star caliber PF in Gasol, and the best 4th option in the league in Odom. So... Can Kobe do the same thing he's been doing on Team USA on the Lakers? Can he be the designated stopper and not the primary offensive guy?
Bynum, Gasol, and Odom can score plenty of points. They can allow Kobe to use his energy shutting down the opponent's best perimeter player. There are plenty of skilled perimeter players in the Western Conference, such as D-Will, T-Mac, Brandon Roy, Manu, Allen Iverson, etc. Kobe will get points here and there, from open 3's and set-plays but not from isolations and pick-n'-rolls. And like Kobe did in the 3rd quarter of the Russian game, when the Lakers' offense is at a standstill, Kobe can become offensive-minded. If he plays defense in the NBA like how he has been playing defense in the international level, I think that Kobe can win a DPOY.
It's the offseason. I'm bored so I was just typing as I was thinking. I'm 100% sure that this will not happen. Bynum, Gasol, Odom, and the rest of the Lakers are not close to what LeBron, Carmelo, D12, and the rest of Team USA are. Kobe gets paid to score (basically). Without him, there is little perimeter firepower on the Lakers (a gunner like Sasha isn't a big threat). But I think it'd be a treat to see Kobe continuing his Doberman-like defense when the next season comes.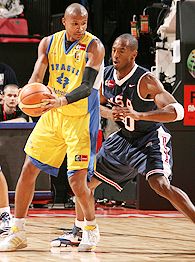 Any thoughts on my little brainstorm?