The Lakers ended their three game week going 2-1 with their only loss coming to the Clippers. The Lakers had a golden opportunity to increase their lead over the Utah Jazz but instead let the lead slip away and now find themselves half a game behind Utah for the 8th and final playoff spot. With only five games left to go, the Lakers need all the wins they can get if they want to extend their season past next week. Here are this week's Top to Bottom:
TOP
3. Pau Gasol

Pau's game has been steadily improving since his return from injury and he has been playing better along side Dwight Howard. This week Pau averaged 15 points and 10.6 rebounds a game while shooting 52.6% from the field. With only five games left in the season Pau is going to have to keep his big boy pants on and continue to put these types of numbers up.
2. Kobe Bryant

Will Kobe Bryant ever cease to amaze us? This week Vino has averaged over 45 minutes a game. With Steve Nash and MWP out Kobe has been forced to play a staggering amount of minutes while trying to will this team into the playoffs. In the three games this week Kobe averaged 24 points, 10 assists, and 7.6 rebounds a game. He also recorded his 19th career triple-double against the Dallas Mavericks when he went for 23 points, 11 rebounds, and 11 assists. Will the Black Mamba be able to continue to play these extended minutes? Does he have a choice?
1. Earl Clark

Last week, Earl Clark reached number 1 on my bottom list and I asked the question "Is 'Clarksanity' over?" This week, Eazy ensured us that it is definitely not over yet. With MWP and Steve Nash out with injuries the bench rotation was very short and Clark saw some very productive minutes. Clark averaged 14.6 points, 6.6 rebounds, and 2.3 blocks a game highlighted by his performance against the Dallas Mavericks where he went for 17 points, 12 rebounds, and 5 blocked shots while leading the team in the plus/minus category with a +22. Let's hope Eazy can keep this up in the last five games and hopefully into the playoffs.
BOTTOM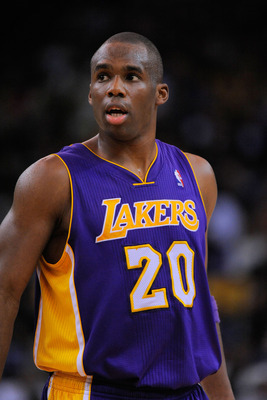 3. Steve Blake

Steve Blake didn't necessarily have a bad week, but it definitely wasn't up to par compared to some of his previous games. As a starter, Blake shot 40% from the field and 33% from long range, both short of his season average of 42% each. Blake had weekly averages of 8.3 points and 2.3 assists a game this week. Steve Blake will continue to start for Steve Nash, who still has no return date set.
2. Antawn Jamison

Antawn didn't get off the bench much against Dallas and the Clippers this week, playing only 17 minutes in each of those games compared to his season average of 21mpg, and in turn was not very productive.  Jamison had weekly averages of only 8.3 points and 2 rebounds a game in the three games played this week and was the only player with a minus versus Dallas (-2) and lead the team in the minus category against the Clippers with a -15. Jamison's season has been pretty up and down but he has always remained calm and collected. Let's hope Jamison gets himself going again in these last five games.
1.  Jodie Meeks
Meeks has not seen much success since joining the starting line up. In the three games this week Meeks only averaged 5.3 points and went 4-13 from long range. Meeks will see a decrease in minutes in Tuesday's game against the New Orleans Hornets when Metta World Peace makes his surprising come back just 12 days after having torn meniscus surgery. Let's hope Meeks' return to the bench helps his game as we need him to start knocking down some of those three-pointers.