This is definitely worth a read. I got to take a glance at it and it was very cool. And it features two AM570 personalities in Steve Hartman and Matt "Money" Smith who co-wrote it. Here is an excerpt from Kobe Bryant's favorite places.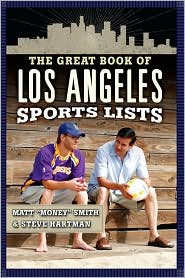 KB24.com: If someone asked you to make a list of your favorite foods, movies, teams or cars, you could probably bang it out without skipping a beat, right?
Recently, Kobe was asked to rank his favorite venues, and he obliged in a new book by Southern California sports authorities Steve Hartman and Matt "Money" Smith, titled "The Great Book of Los Angeles Sports Lists."
Before we get to Mamba's list, you should know this book is chock full of lists from SoCal stars such as Phil Jackson, Tommy Lasorda, Luc Robitaille, Jeanie Buss, James Worthy, Eric Dickerson, Steve Garvey, Tony Hawk, Flea, and many more.
In all, there are almost 100 lists, and several come directly from Hartman and Smith. (Top 12 Lakers Draft Picks, Top 10 Greatest Lakers Moments and Top 10 Reasons People Say We're Terrible Fans are some juicy examples of the topics they tackle.)
So how does Kobe's list of favorite venues look? Read his introduction below, which explains why his lists looks the way it does, and then check out the list of his all-time favorite arenas…
"I'm a fan of the game, have been for as long as I can remember. Watching as a kid there was Dr. J or Charles Barkley in my hometown at the Spectrum, Michael turning Chicago into a basketball city at Chicago Stadium, or Larry, DJ, McHale and the Chief making the Celtics that team I loved to hate in Boston Garden. I'm a little upset I barely missed out on playing in the places that were in my dreams growing up. By the time I got to the NBA in 1998, they were gone, replaced by nice looking and comfortable, but not historically significant arenas. So no doubt some of my favorite places are the old ones that were or are still around. The Palestra in Philadelphia is on top, with the Forum and Staples Center right behind it. And I guess you could say the rest are pretty much even."
In the book, Kobe goes into detail about each venue, but we'll whet your appetite by showing you his list of venues without KB's explanations. (For that, you'll have to buy the book!)
Kobe's Favorite Venues
8) Beijing Olympic Basketball Gymnasium
7) PalaEUR (Roma, Italy)
6) The Barn/Arco Arena
5) Alamo Dome
4) Madison Square Garden
3) The Forum
2) Staples Center
1) The Palestra
So The Palestra – also known as the Cathedral of College Basketball – tops KB's list of favorite arenas. The classic 1996 district championship game between Rip Hamilton's Coatesville squad and Kobe's Lower Merion Aces obviously plays a big role in Kobe's memory bank, as it does for thousands of Philly sports fans who were lucky enough to attend that classic game. (Read more about that historic matchup here.)
The Great Book of Los Angeles Sports Lists was published earlier this month and is currently available at bookstores and online retailers everywhere.