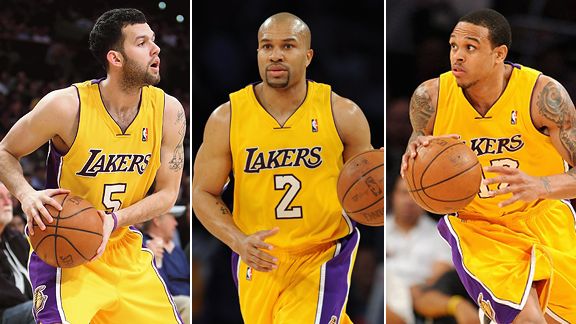 You knew people were going insane without Laker basketball when the latest Laker-related news coming out of September had Ron Artest singing (and I use the term loosely) Celine Dion's "My Heart Will Go On" on the karaoke magic mic and Lamar Odom suddenly passing a different, more expensive, kind of rock to Khloe Kardashian after only a few weeks of 'practice'.
Yes, as captivating and riveting as all that random, superfluous news has been, us Laker fans have now finally reached a crucial boiling point that has left us all exasperatedly asking, "Can we please see some real Adam Morrison basketball?!!" Ok fine, that's just me, but I'm pretty sure we're all  on the same page in our longings for some real NBA basketball to digest.
Well, October is finally here and we've effectively moved on to… prancing ponies. Thank Lamar Odom and your mom for that one. With media day finished and training camp underway and 2K10, fantasy basketball, and preseason still to come – we've got a large influx of real NBA 'stuff' pony-galloping our way in the near future. As preseason ball gets ready to tip off in just a few days, the NBA analyst in all of us is primed and ready to resurface and begin assessing.
So to kick it off the right way, here's a little precursor-to-preseason guide presenting the top 5 most important issues to keep an eye on this upcoming preseason…
1. On-Court Chemistry –
The biggest question that looms (and has been looming since the beginning of summer) is, of course, how well Ron Artest will fit into the lineup as the new starting small forward for your Los Angeles Lakers.
Ron will most likely play out on the wings whenever Bynum and Pau are on the floor and play more on the block, to take advantage of his strength and size, whenever the Lakers go small. With Kobe, Bynum, and Pau all drawing most of the defensive attention, Ron Artest will have free reign at those wide-open three pointers Trevor Ariza was able to take advantage of all last year.
What inevitably may end up happening during pre-season is that we'll see an overcompensating Ron Artest who'll look to overly pass and be unselfish to a turnover-fault. Don't worry though – I'm sure we'll see him hoist up at least one or two wacky shots that will have us all chuckling in silliness (for now).
While many people will most likely focus-in on how the Black Mamba and Artest mesh together on the floor, I'm more intrigued at how Lamar Odom and Ron Artest's best friend dynamic translates out onto the court whenever both get some run out there together.
Just imagine Ron Artest on the receiving end of some of Odom's creatively sick passes…Yeah, I can't really see anything either…but that's why we have preseason – so we can get clearer pictures of all the blurry/fuzzy ones we've all been imagining! Either way, having his hard-nosed friend out on the court with him should only help fuel the newlywed to not only play with more intensity, but also pull out some new tricks from his back-pocket that we've never seen before (like accidentally passing the ball off Khloe's butt to Artest on the fastbreak…hey, Odom's unique with it).
It will also be most interesting to observe just how much Ron Artest's defensive prowess affects the atmosphere of the Lakers' own team defense. We may have lost the speed and leak-out steals that Trevor Ariza was able to provide for us on the defensive end last year, but I'm sure Ron-Ron will come in with a renewed passion to really put the clamps down on whoever he's defending and bring in a new rugged, 'hoodalized' dimension to our defense that we've never had before. We can only hope that he puts in just as much time learning how to rotate and play solid team-defense as he has in honing his own impressive one-on-one defense.
Having Pau Gasol, Derek Fisher, and Kobe Bryant in the starting line-up should help anchor Artest down and keep him focused on the true objectives that lie ahead. This pre-season should be a fun preview of the Ron Artest experiment and whether or not he can seamlessly mesh into the groove and flow of a Lakers' championship team looking to repeat or totally go off into his own Celine Dion-loving tempo.
2. Andrew Bynum's health –
Once again, Bynum's health and focus will be a key issue for the Lakers going into the new season. Apparently Bynum took a break this summer to let his knee rest, so hopefully that time off really helped solidify and strengthen his knee. His 21-year old swagger, on the other hand, is still perfectly well-intact.
What everyone expects from Bynum this preseason is a renewed dedication to rebounding, defensive movement, and overall intensity. If Bynum's truly healthy, I expect to see a much more active and mobile force in the paint for the Lakers on the defensive end this year. An active Bynum who cleans up the boards and gets most of his points on hustle plays for put-backs will make the Lakers extremely difficult to stop – as will Bynum's All-Star campaign if he adheres to these simple rules.
Unlike last year, this is probably the longest period of time Bynum has actually been semi-healthy, so everything should work to his advantage this time around. And if Bynum can get himself into an earlier groove than the one he went on earlier last year, we'll be in good, Kim Kardashian (Sorry LO)-kind-of shape.
3. Derek Fisher's age vs. Jordan Farmar's big ears vs. Shannon Brown's wings –
Okay, so maybe ears and wings won't factor-in to the real battle for minutes amongst the Lakers' triumvirate of serviceable guards, but age, on the other hand, might play a crucial role in the potential acceleration process of either Jordan Farmar or Shannon Brown.
Pre-season will be more about Derek Fisher learning how to play with Ron Artest than about him playing substantial minutes at all. We'll most likely see 15-20 minutes of Fisher in the preseason (and just a little more than that in the regular season), as he paces himself throughout the season and plays part-time coach to his two younger protégés.
This preseason will give Farmar and Brown all the time and exposure they need to prove which player will be best prepared to become the Lakers' point guard of the future. Farmar played his best in 2007-2008 when he had rookie guard, Javaris Crittenton, hounding on his minutes pushing him to keep his intensity and game up consistently. His contract year and the thoughts of Shannon Brown supplanting him should only further help keep him on his feet at all times this year. We'll just have to see if he can curtail his ego and focus more on running the offense (he's a great passer when he wants to be) instead of looking for his own shots (some of which can be quite questionable).
The biggest question coming into this preseason, however, is whether or not Farmar can start using his speed, not only on the offensive end, but on the defensive end as well and learn how to better impede quicker guards – which the Lakers have always had a problem doing. He's got quite a chip on his shoulder, especially with the possibility of him being shipped off near the trading deadline, so preseason will be a crucial starting point to see just where Jordan Farmar's head is at. Farmar's got big ears, he's heard the critics. It's time to see if his cajones are just as big.
Shannon Brown, on the other hand, will finally get a full season to really learn more about the nuances of the triangle and work in-depth with the Lakers' coaching staff, which has been salivating for a chance to tap into his tremendous potential. If he can further build upon his commendable progress from last season, the offensive reigns could eventually be turned over to him in the near future. This preseason, the focus will be on his continued progress in handling the ball, running the offense, and hitting the wide open jump shot. His ability to fearlessly cut into the lane and finish with authority is a major asset that no real Laker point guard has ever had. Phil Jackson has always preferred bigger guards, so it's really up to Shannon to bring in the intensity on both ends and prove that he can be a smaller Trevor Ariza-like spark plug to the team. But in the end, the minutes will go to the guard that puts forth the most effort on defense.
I'm ready to see more of his air-mail packages of amazing blocks. UPS, what can Brown do for you?
4. The Machine vs. Ammo –
It's ironic that both Adam Morrison and Sasha Vujacic's nicknames instantly conjure up mental images of shiny, expensive weaponry because… they're both expensive ($5 million a piece). Whether or not these two pure shooters can 'shine' and regain their outside shooting swagger remains to be seen. This pre-season gives both the perfect platform to rebound from their dismal seasons and prove that they're more than just expensive weapons – they're weapons that can shoot.
Over the Summer League, Morrison showed signs of redemption not only with his shooting touch, but with his basketball confidence. He looked fully healthy and didn't seem tentative about his ability to make things happen on the offensive end. What I'd like to see Morrison improve on during this preseason is his defensive timing and overall ball handling skills. He looked like an old man that couldn't bend down on defense at times this summer. And while his shot was definitely wet on the offensive end, he just looked awkward whenever he put the ball on the floor (but then again maybe his scoring game has always looked awkward).
Let's just say that if Morrison wants to impress the coaches and snag some of Sasha's minutes, he won't do it by looking awkward. He'll have to round out his NBA game a little more by playing some inspired defense, making the right decisions within the triangle, translating his college saviness and confidence to the NBA, and keeping his shot locked and loaded. If he was able to add a few extra pounds of muscle this summer, he might even be able to develop a moderately successful post-up game that should prove effective against the smaller two-guards he'll inevitably be matched up with.
At 6'8 and white, he could potentially be our Luke Walton with a jump shot. Given that this is also Morrison's contract year and he does run the risk of being traded midseason, he's got to impress the coaching staff fairly quickly and prove he can be a valuable contributor to a championship-caliber team.
There's not much I can say about Sasha that hasn't already been said. The guy's had a tough year and a tough summer, especially after having to leave the Slovenia national team to rest his knee. The one thing that keeps me mildly hopeful and optimistic about our broken-down machine is the fact that he can't possibly be any worse than he was last year… right? If anything, I hope Sasha at least regains the defensive peskiness that he was so notoriously able to bring night-in, night-out during his solid 07-08 campaign. He was so active and annoying on defense that year that even Laker fans found themselves contentedly annoyed.
Hopefully Sasha has learned to cool his nerves down and just relax. Like what Brown is to Farmar, having Morrison in the wings waiting to snatch his minutes should only further motivate Sasha to regain his role as the Lakers' more annoying version of Eddie House.
The shooters dual between him and Morrison will be an interesting one that I'll definitely be keeping my eye on this preseason. It should be a fun war of… metallic… ammo… stuff. In other news,  Sasha Vujacic also cut his hair per Phil Jackson's request. Hopefully, he cut the 'suck' out of his game along with it.
5. The Search for Luuuuuuuuke's Jump Shot –
This may be asking too much of Luke, (especially because it looks as though his stiff, awkward, knuckle-ball shot is beyond correction and improvement) but can you imagine what a real threat he would be if he actually had a jump shot? He can rebound, he can pass, he can post-up, he has curly hair – but he can't shoot.
I've said this for the longest time, but his inability to be a pure shooter is the only thing separating him from becoming Michael Jordan, err… I mean – Mike Miller. It's okay though, because as long as Luke can show signs of continued defensive improvement this preseason and continue to do what he does best on offense by spacing the floor, getting the ball to the right man,  and not shooting, we'll all be more than satisfied.
Ok fine, this wasn't really a crucial topic – just one of my petty desires. But I always seem to find myself mulling over the possibilities regarding different role players that if only they had a better 'this', they would be unstoppable; like if only Kwame Brown had bigger hands… he could throw bigger cakes.
Final Breakdown –
Outside of all the analysis and player break-downs, the most important thing to realize is that our beloved Lakers are once again here to bring the excitement back into our mundane lives – so schedule your existence accordingly. The biggest adjustments will not be made by the players, but by us, and how obsessively we'll end up reconfiguring our days for every single Laker game.
So from here on out, as the end of every week brings with it an ever closer sense of repetitive championship-ness in the P&G Kingdom, we can all finally sing along with Ron-Ron and confidently declare that 'our hearts will go on.' But unlike the Titanic, just don't expect any sinking 'ships to go along with that chorus.