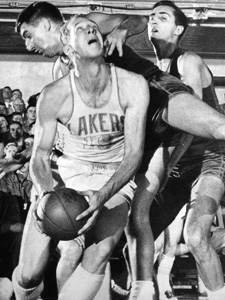 One of the greats of the Lakers franchise Vern Mikkelsen sadly passed away yesterday November 21st. Mikkelsen resided in Wayzata, Minnensota with his family.
Lakers President Jeanie Buss had this to say about Mikkelsen,
Vern was one of the first in a long line of great Lakers players, and a key link to our franchise's early years in Minnesota.  We appreciate his contributions to the Lakers and our legacy, and we send our condolences and best wishes to his family.
Vern, who turned 85 last month and was an eleven year prostate cancer survivor, was drafted by the Minneapolis Lakers as a territorial pick in 1949 NBA draft. All 10 of his NBA seasons were with the Lakers franchise as he played alongside other Laker greats in George Mikan and Jim Pollard. During his career, Mikkelsen was a six-time NBA all-star, named to the All-NBA second team four times, and was an integral part of four championship teams in 1950, 1952, 1953, and 1954. His averages were 14.4 points per game (10,063 points total), 9.4 rebounds per game (5,940 rebounds total), and 2.2 assist per game (1,515 assists total).
Mikkelsen was known for for his durability and tenacious defense. He played in 798 out of 800 games in his career. Alongside that statistic, Mikkelsen led the NBA in fouls for three straight years and holds the league record for fouling out of 127 contests. Vern coached and general managed after his playing career, for the Minnesota Pipers in the ABA.
In 1995 Mikkelsen was elected into the Hall of Fame with his coach John Kundla.
Check out two videos below on the Minneapolis Lakers and Vern Mikkelsen!
http://www.youtube.com/watch?v=xhWSir_hxz4