An interesting report on the relationship between the G.O.A.T., Kareem, and our young center Andrew Bynum.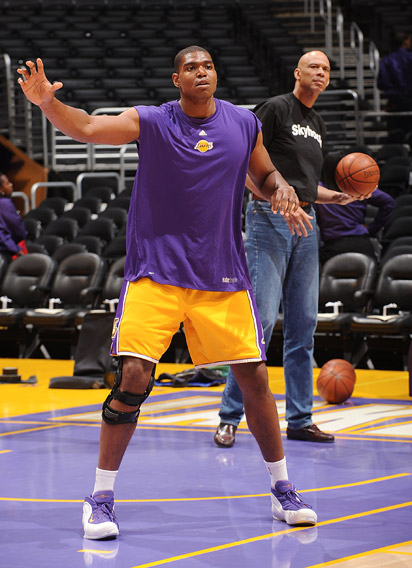 InsideSoCal: For four years the relationship between the NBA's all-time leading scorer and Bynum seemed to be a productive one.
Abdul-Jabbar took Bynum under his considerable wing, taught him post skills and footwork, while Bynum listened and grew into one of the brightest young centers in the NBA.
But that relationship now seems to be running its course, at least as far as Bynum is concerned.
Sources close to the team said that Abdul-Jabbar will be playing a lesser role with both the Lakers and Bynum this season.
With his round-the-clock tutoring of Bynum not needed as much, sources said Abdul-Jabbar would likely spend less time with the team and more time back in his hometown of New York City.
All of which seems to be a considerable letdown for the former Lakers captain, who has worked closely with Bynum since the Lakers drafted him out of high school in 2005.
Abdul-Jabbar expressed disappointment in Bynum and the situation, saying that "I think there are things that have to do with basketball that he could learn but he's getting on in years."
Bynum said he understood his mentor's feelings, but that it's not personal and just a natural evolution for him in his career.
"I understand where he's coming from," Bynum said. "It's definitely tough (for him). As of right now, I have my direction and he's still helping me. As long as he doesn't stop helping me everything is going to be fine."
Over the summer, the two had no contact.