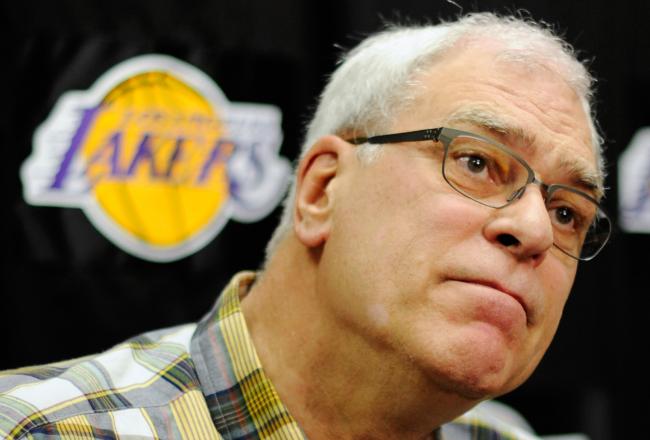 After the Lakers abruptly ended their ties with head coach Mike Brown on Friday morning, the search for his replacement began. Even before Brown's firing rumors were swirling of his possible replacement. On November 6, Alex Kennedy from Hoopsworld.com reported that a source had told him Jerry Sloan would be the new Laker coach by December 1. There were also rumors of Mike D'Antoni coming to reunite with Steve Nash and bring showtime back to LA, and of course, Phil Jackson teaming up with Kobe for a third time.
Shortly after Brown being released, General Manager Mitch Kupchak addressed the media. During the press conference he addressed that he and the Laker front office were devising a plan of attack to find Brown's replacement meanwhile naming assistant coach Bernie Bickerstaff as the Lakers interim head coach. Kupchak did not release the names of the potential coaches but from what we know now the Lakers planned on contacting Phil Jackson, Mike D'Antoni, and Mike Dunleavy among others.
On Saturday morning, Kupchak and Laker Executive Vice President Jim Buss paid Phil Jackson a visit in his home. Jackson became the favorite to take over the head coaching vacancy but there was some concern whether or not Jackson would be interested in taking over. In the last few years of Jackson's last stint with the Lakers, age and health started becoming an issue for him. Before signing his last contract he tried negotiating travel restrictions to limit his traveling during the long NBA season. Along with travel restrictions, it is reported that Jackson is also demanding to have a bigger say in basketball decisions. It is clear that both sides are interested in a third stint but unclear as to how far either side is willing to bend. Both parties agreed to a follow up meeting in the coming days.
Meanwhile, not willing to take chances on Jackson turning the job down, Kupchak and company reached out to Mike D'Antoni and Mike Dunleavy. Mike D'Antoni was contacted Saturday afternoon and went through a phone interview but no in person follow up was scheduled. D'Antoni has also gone on record saying he would love the job if it were offered to him, but the job remains to be Phil Jackson's to accept, or decline, first.
Suffice to say, the next few days will be very interesting and exciting in Laker land. The idea of the Zen Master coming back for another go around with Kobe and company is a thought every Laker fan has dreamed of since Jackson left. But also the possibility of Mike D'Antoni bringing his infamous fast paced offense will be something very new and fun to the Lakers. The decision is expected to be made in the next few days.