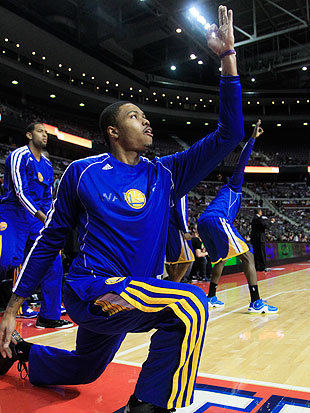 Alright so what is known about him? Offensively he's nothing special, but defense is what he's known for.

He was the two time CAA Defensive player of the year so defense is what he's known for.

If you're looking for an offensive explosion look elsewhere because he is nothing and I mean NOTHING special. If you're looking for someone you want to give the task of locking up someone at the 1 he may be your guy. If you need someone doing the Kid and Play with Sacre while cheering on the bench he's DEFINITELY your guy. He has a mean streak and is freaking annoying if you're playing against him but you enjoy if he's on your team.
Always hustles, always gives it his all, is a great teammate and locker room guy and has matured since his younger mistakes. Will stay on 200% it if he plays for 48 minutes or for 10.


Guess I'll give you a highlight to be excited about.. here you go.


D-Fense and a 6'11 wingspan.
Lakers are also high on him, expect him to contribute now and in the future.
Edited by Majesty, July 12, 2014 - 11:06 PM.