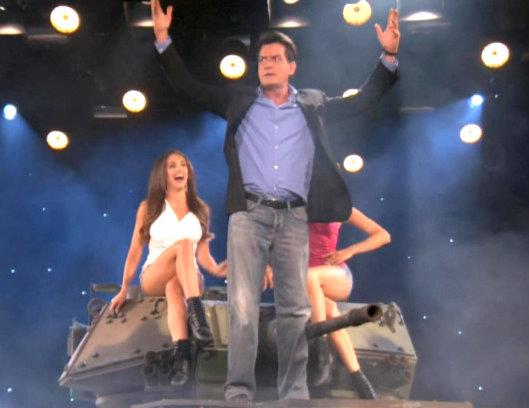 Charlie Sheen remembers the days when he would just mosey on through the gate to the Warner Bros lot. But that was back when he was still one of the "Two and a Half Men" in his former show's title. That was pre-Chuck Lorre feud, pre-tiger blood -- and before he was banned from the property.

As Sheen told Conan O'Brien after making a militaristic, tank-riding return to the lot in Burbank, Calif., on Thursday for an appearance on O'Brien's show, the days of lax security around Sheen are over.

"When we pulled up to the gate, they ran, like, a really intense security check," he marveled. "Not that intense ... but I used to be able to just cruise on in. Not anymore."

Granted, when security guards see a guy riding a tank, flanked by pseudo-Hooters girls in combat boots, they'll probably wanna take a quick look-see in the vehicle before waving the visitor through.

Anyway, once the actor made it onto Conan's set, things proceeded swimmingly: Charlie chatting about his work on "Scary Movie 5" and even admitted his secret to keeping a cool head in the wake of the tensions with his former producer that set him on a year-long path of seeming insanity.

All he has to do to chill out is take a bat to a duffel bag full of watermelons -- and pretend that there's "a Warner Bros. executive hugging Chuck Lorre" inside of it.

We can think of worse ways to let off that steam ...
Edited by Mr Terrific, October 11, 2013 - 01:16 PM.