I agree and respect your points, but you can reverse it. How many of those guys could play in todays leauge and be as effective. I wish it could be a lil more physical but the bad boy pistons type of style does not need to.return.
Thats true, and that is what the problem is with comparing people in different eras you really cant say or even make a valid arguement for who was better or who would do better in what time just all assumptions. I guess it is how you look at the game on what you like, as someone that plays a bunch of pick up games on the neighborhood courts Im used to rough gritty games, and sometimes when I watch the NBA i sort of would like to see that playground blacktop type of ball since that is what I play. If I probably played more structured games with an actually ref in a league maybe I wouldnt feel the same, but being so used to one way makes me like it more and would love to see players go at each other like that with the intensity that can only be found on a black top game of ball. To me watching a 6'8 guy that is 260 complaining about a little bit of contact and oversells it makes me angry.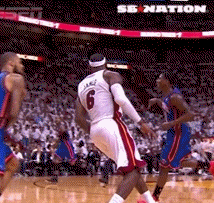 Edited by PhillyLaker24, March 02, 2013 - 08:15 PM.