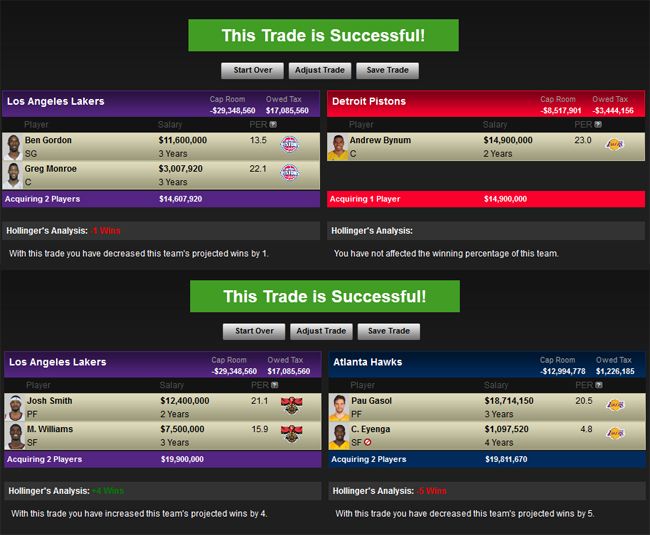 Lakers - Pistons
Andrew Bynum <-> Greg Monroe + Ben Gordon + 1st Round Pick (+ 2nd Round Pick)
Lakers - Hawks
Pau Gasol + Christian Eyenga <-> Josh Smith + Marvin Williams
with Piston's pick which will probably be 9th pick, we get Austin Rivers or Kendall Marshall.
C Greg Monroe
PF Josh Smith
SF Marvin Williams
SG Kobe Bryant
PG Austin Rivers/Kendall Marshall
6th Man : Ben Gordon
Sub 2 : Ron Artest
Sub 3 : Jordan Hill
Sub 4 : Darius Morris/Andrew Goudelock
why would Detroit do this? They would want to get rid of Gordon's contract. And Bynum can be their franchise player (Monroe doesn't have that potential, yet.)
why would Atlanta do this? Josh Smith stated that he won't sign new contract. Pau Gasol can still be one of 1A - 1B punch in any other team. Also I believe he'd complement Horford much more than Smith. They can basically play each other's positions, play in post, and spread the floor. And of course there is Marvin Williams issue.
and finally, why would Lakers do this ? It's obvious that this team needs role players not other star players.Last year we had 4 All Star level players, this year 3. It's not getting it done. With Josh Smith, and Monroe at young age we can prolong Kobe's career with relatively less problematic lineup. Ben Gordon can be the perfect backup for Kobe, 6th man coming off the bench. Artest can do his thing for another year coming off the bench........ AND that 1st round pick will be valuable for the future. Either Rivers or Marshall can command this team until we get our next big superstar. Hell Rivers has that potential. And who knows how Marshall will turn out. Westbrook came out of nowhere. I read he's more of a passer type though. We can have our own Rondo, who knows. As you see the team gets much deeper. And we still have that trade exception as bonus. One more role player can do a lot of good things.