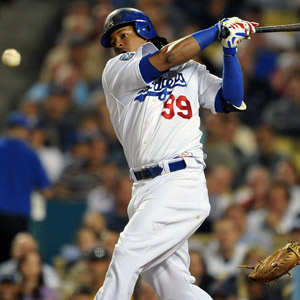 Reports: White Sox to claim Manny off waivers
Reports are surfacing that the Chicago White Sox plan to claim slugger Manny Ramirez off waivers from the Los Angeles Dodgers.

FOXSports.com was the first to report that the White Sox, who trail the AL Central leader Minnesota by 4 1/2 games entering play today, would pick up Ramirez once he is made available.

Joe Cowley of the Chicago Sun Times, citing a major league source, tweets that GM Ken Williams is "pushing in all his chips on getting Manny Ramirez."

Based on winning percentage, the White Sox are the first AL contending team which could claim Ramirez if he makes it past all NL clubs unclaimed.

Ramirez, 38, was activated from his third trip to the disabled list this season on Saturday. He is batting .312 and has eight home runs and 39 RBI in 189 at-bats.
---
http://www.cbssports.com/mlb/story/13813486/reports-white-sox-to-claim-manny-off-waivers