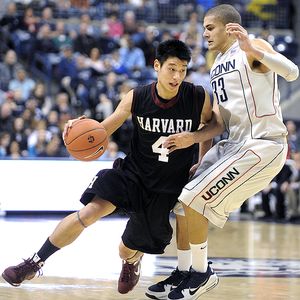 He's had big games against UCONN and Boston College this season, which he had against BC last season as well.
He's a 6'3 200 lbs. from Cali. I think he could develop under the triangle system, especially under the guidance of Derek Fisher. 2nd rd pick, camp invite, or d-league call up perhaps?
Highlights for the Bob Cousy Award:
Video highlights of Jeremy Lin against Uconn:
#6 - Jeremy Lin buzzer beater:
Jeremy Lin scores on Greg Monroe:
Jeremy Lin steal and dunk:
Recent Quotes on Jeremy Lin:
"Keep an eye on Harvard's Jeremy Lin. We mentioned him last year ... Lin is a terrific scorer, quick, has good leaping ability and is a nice size for a point guard. The fact that he's an Asian-American guard playing at Harvard has probably kept him off the NBA radar too long. But as scouts are hunting everywhere for point guards, more and more are coming back and acknowledging that Lin is a legit prospect." - ESPN NBA Draft Analyst Chad Ford

"He's easily one of the nation's best-kept secrets. Perhaps no more." - ESPN commentator Andy Katz

"Lin is one of the top point guards in the country." - ESPN commentator Andy Katz

"He's a terrific basketball player. What I really like about him is he's athletic, more than you think so. He controls his temperament to a really nice tempo. He knows how to play. He's one of the better kids, including BIG EAST guards, who have come in here in quite some time...I really love his composure." - Connecticut Head Coach Jim Calhoun

"There are a lot of teams that come through here... I can't think of a team that he wouldn't play for." - Connecticut Head Coach Jim Calhoun

"(Jeremy Lin) really has great, great composure on the court; he's got change-of-pace dribbles; he's really, really good." - Connecticut Head Coach Jim Calhoun

"A player that continues to be overlooked nationally: Jeremy Lin of Harvard. All he did was go for a career-high 30 points, nine rebounds and three assists in a 79-73 loss at Connecticut. The race between Cornell's Ryan Wittman and Lin for Ivy League player of the year will be quite a chase." - ESPN commentator Andy Katz

"Lin can play anywhere, in any league." - ESPN commentator Jay Bilas

"Harvard guard Jeremy Lin put on a show in Storrs on Sunday, contributing a career-high 30 points and nine rebounds as his Crimson hung around all afternoon before losing 79-73 to 13th-ranked Connecticut." - ESPN commentator Andy Katz

"Jeremy Lin is fearless in the lane and a legit playmaker, drawing so much attention as the Crimson's legit threat that he attracts a crowd, opening up his teammates for easy buckets. He finished with 30 points and nine rebounds, and for at least this game, was by far the best player on the court." - ESPN columnist Dana O'Neill

"For some folks who haven't seen [Lin] play, you're probably wowed by some of the things he can do-we are." - head coach Tommy Amaker.

"...a hidden gem." - ESPN commentator Seth Davis

"That's the best complement I can give him, that what you saw this afternoon out of him is who he is. I think he's as good of a guard as there is." - head coach Tommy Amaker.

"Jeremy Lin, Harvard's spectacular guard, is perhaps the primary reason UConn had such difficulty Sunday afternoon... (he) streaked upcourt for emphatic dunks, played with grace and determination and gave the Huskies all they could handle right up to the final buzzer." - Mike Anthony, Hartford Courant

"He's a great player. I'm definitely tired after this one." - UConn guard Jerome Dyson

"FOXSPORTS.COM STUD OF THE NIGHT: There were plenty of candidates, but I've got to go with Harvard senior guard Jeremy Lin - who finished with 25 points in the Crimson's upset at Boston College." - Fox Commentator Jeff Goodman

"Jeremy Lin can really play" - ESPNBoston.com Columnist Brian McPherson

"...he's plenty athletic. Lin explodes at the hoop and can finish above the rim, and he has built his body into a strong physical specimen that can withstand contact."- ESPN analyst Doug Gottlieb

"Jeremy Lin reminds me of Santa Clara's Steve Nash circa 1996. Hair cut, deceptive athlete." - ESPN analyst Fran Fraschilla

"Lin is not a pure shooter, but he has really solid fundamentals on his jumper and can elevate -- especially going right -- while maintaining great balance. Probably the most impressive part of the Harvard star's game is that his coach, Tommy Amaker, so desperately wants to get others involved that Lin is not really the focus of the team's offense for most of the first half. Yet he still puts up the numbers he does." - ESPN analyst Doug Gottlieb

"Lin takes over games in the second half."- Penn PG Zack Rosen

"After watching the senior drop 30 on the Huskies at Gampel Pavilion... Man, was I impressed."- ESPN analyst Doug Gottlieb

"Jeremy Lin dissected and bisected Connecticut to the tune of 30 points." - ESPN columnist Dana O'Neil

"If you want a new favorite college player to watch and cheer, put the soft-spoken, others-before-self Lin in your sights. You will not be disappointed." - ESPN analyst Doug Gottlieb

"In two games against New England's annual NCAA tournament participants, Lin scored 55 points and shot 64 percent from the field and 80 percent from the free-throw line.

He boasts an all-around repertoire rarely on display. Last season Lin was the only player in the nation to rank among the top 10 players in his conference in points, rebounds, assists, steals, blocks, field-goal percentage, free-throw percentage and 3-point percentage." - ESPN columnist Dana O'Neil

"I guess telling you about this Jeremy Lin guy wouldn't be breaking any news at this point." - Basketball-U

"Despite the fact that the Eagles had seen Lin do this to them before, they still had no answer..." - Basketball-U

"...Just a dominating performance by Jeremy Lin" - Broadcaster Ted Sarandis

"That was the best performance I've seen in this building (Conte Forum) in a long time" - Broadcaster Ted Sarandis

"Jeremy Lin is probably one of the best players in the country you don't know about" - ESPN's Rece Davis.

"...Lin is the only player in the country to rank among the top 10 in his conference in every statistical category. That is amazing." ESPN's Rece Davis.

"He is a joy to watch. He's smooth, smart, unselfish, sees the floor like no one else on it sees. He finished with 25 points and was credited with just four assists. It seemed like it was twice as many." - Columnist Len Megliola

Recent Quotes on Harvard Men's Basketball:
"...It's also unfair to lay all of the blame on Connecticut without giving any of the credit to Harvard. Tommy Amaker's team plays hard, but also plays smart. Harvard players repeatedly passed up decent looks to make the extra pass for a guy with a better look... Don't be surprised to see Harvard give frontrunner Cornell a run for its money in the hunt for the Ivy League's lone NCAA tourney bid. " --ESPN columnist Dana O'Neill

"If you want to know why I love college basketball, consider the following: In the calendar year 2009, Harvard University has a record of 2-0 against crosstown rival Boston College. In that same calendar year, North Carolina coached by hard-working Hall of Famer Roy Williams was 0-1 against Boston College. Duke, coached by two-time Olympic coach and Hall of Famer Mike Krzyzewski was 1-1 against the Eagles.

Think about that: Harvard, which last played in the NCAA Tournament in 1946 (its only appearance) has beaten BC twice-once last January a few days after the Eagles had won AT North Carolina-and once last night, 73-67. Both Harvard victories took place (surprise) at BC." - John Feinstein

"First, congratulations to Tom and his team. They were better than I even thought they would be. They're very well coached... they're a very good basketball team." - Connecticut Head Coach Jim Calhoun

"They played 40 minutes the same way. When we let up, they took advantage of it, and that's what good teams do." - Connecticut Head Coach Jim Calhoun

"They're a much better team than they were a year ago (when they beat us). They've gone out and played some good competition." - Boston College Head Coach Al Skinner.

"They are a good basketball team and they executed the things they had to do ... they are a good team, they executed their stuff." - Boston College Head Coach Al Skinner.

"You've got to give Lin some credit. He's a good player." - Boston College Head Coach Al Skinner.

"Harvard can really play, too" - ESPNBoston.com Columnist Brian McPherson

"Taking UConn to the brink is one thing. Coming back less than a week later and beating Boston College shows it wasn't a fluke. Cornell was a unanimous pick to repeat as Ivy League champs, but it appears Harvard -- a fourth-place pick in the preseason poll -- is poised to give the Big Red a run for their money for an NCAA tournament berth." - ESPNBoston.com Columnist Brian McPherson

"In back-to-back seasons, Harvard has managed to take down Boston College rather convincingly. In fact, Harvard may "own" Boston now (athletically speaking). After the game, Jay-Z's "Run This Town" could be heard blaring out of the Harvard locker room." - ESPN analyst Doug Gottlieb

"The Crimson picked up full-court man defense for a significant portion of the second half, almost to convey a sense of freshness and confidence that a low-major can rarely even feign during the latter portions of a game against a BCS opponent." - Basketball-U

"The Crimson are younger, but more talented, and they are healthier this time around." - Hoopville.com's Phil Kasiecki
http://gocrimson.com/sports/mbkb/2009-10/releases/091210_MBB_Quotes
I like to see the Lakers to take a chance on this kid and select him in the 2nd round.
Edited by LALakersFan4Life, May 20, 2010 - 02:19 AM.