http://sports.espn.go.com/dallas/mlb/news/story?id=4512813

ARLINGTON, Texas -- Omar Vizquel is done catching massive snakes. Next up, he wants to become a matador.

The Texas Rangers infielder, who last winter searched for anacondas, plans to try bullfighting when he goes home to Venezuela this winter.

"Just go and learn the basics and stuff," Vizquel said. "It's one of my things on the to-do list. There's a lot of things still to do."

There are few players who can match Vizquel's offseason pursuits. Among the other adventures he hopes for: parachuting, flying in an F-16 jet and attending all three Triple Crown horse races.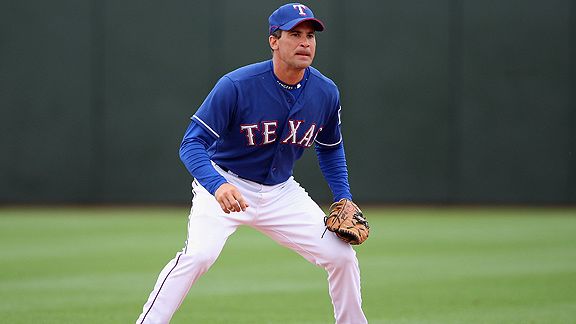 A grand tour to see the Kentucky Derby, Preakness Stakes and Belmont Stakes might have to wait because the 42-year-old Vizquel, already the oldest position player in the major leagues, intends to come back next year for a 22nd season.

"When I retire and have some free time, I want to do the three races," he said.

Vizquel said Sunday that he is planning to play another season because he feels pretty good and "better take advantage of it" while he feels that way.
FULL ARTICLE inside link.
This kinda came outta' nowhere to me, but I bet he could pull it off.