1. Fins to the left, fins to the right:
And the Florida Marlins, tenants of Land Shark Stadium, have regained their bite. Thanks to dominating ace Josh Johnson and an offense that is crushing opposing pitchers as easily as empty soft drink cans, the Marlins are channeling their 11-1 start and looking like serious playoff contenders.
And, oh yeah, they're doing it with what was the lowest opening day payroll in the majors.
Paltry payroll be damned, the Marlins during the month of August lead the majors in batting average, runs, hits, RBI and on-base percentage. Manager Fredi Gonzalez's pinch-hitters, featuring Ross Gload and Wes Helms, lead the majors in hits and are tied for the major league lead in RBI.
Then there's Johnson, barely more than a year back from Tommy John ligament transfer surgery (he returned from that a year ago July), who is 12-2 with a 2.85 ERA. He leads the National League in win percentage (.857), is seventh in innings pitched (161 1/3), tied for fourth in wins, fifth in opponents batting average (.224), seventh in ERA (2.85) and tied for ninth in strikeout (140).
"It was like a video game," Florida catcher John Baker told reporters. "You press 'A' and he'd throw a 97 mile-an-hour fastball on the corner. You press 'B' and it was a backdoor slider. Their hitters weren't saying much. They seemed pretty frustrated."
You bet the Marlins are having $36 million (total team payroll) worth of fun so far this year. And the fun will be in seeing how far they can push it.
Remember, in April they became only the fourth NL team since 1983 to win at least nine of its first 10 games, according to the Elias Sports Bureau, joining the 1990 Cincinnati Reds, the 1994 Atlanta Braves and the 2003 San Francisco Giants. The Reds and Giants each made the playoffs. The Braves probably would have, too, though we'll never know because the players' strike wiped out the postseason.
As the Marlins continue to search for bullpen help -- they made a strong run at San Diego closer Heath Bell in late July and reportedly are interested in John Smoltz, who is expected to be released by Boston on Monday, as a reliever -- they are not going away anytime soon.
2. Scary Saturday:
What a miserable day, what with the Mets' David Wright and the Dodgers' Hiroki Kuroda each taking baseballs in the head in separate, horrifying incidents. Wright was drilled by Giants starter Matt Cain and Kuroda took a line drive up the middle off the bat of Arizona rookie Rusty Ryal.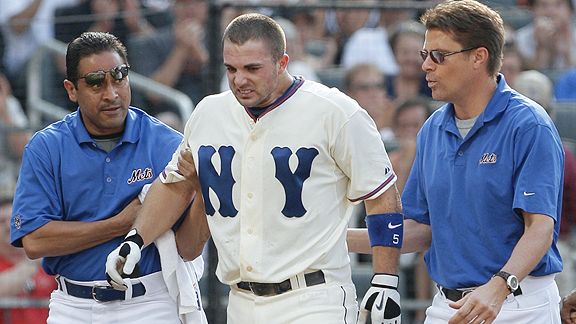 Wright, who joins a ridiculously long list of injured Mets, probably is done for the season as he fights post-concussion syndrome.
3. Beantown blues:
The Red Sox fell out of the AL wild-card lead while losing two of three in Texas one weekend after getting swept in four games in New York, and the warning flares are as red as the club's socks. Since the All-Star break, the Red Sox are 1-11 on the road against teams better than .500. They're 12-17 overall since the All-Star break and, in those 29 games, they've scored three or fewer runs 14 times.
But with the John Smoltz experiment gone terribly wrong, Daisuke Matsuzaka looking like a lost cause, Tim Wakefield on the disabled list and the Yankees hitting on all cylinders, the Red Sox have rarely looked more vulnerable. Oh, and with Varitek behind the plate and Brad Penny, Manny Delcarmen, Ramon Ramirez and Fernando Cabrera on the mound Saturday, the Rangers stole a club record eight bases in Saturday's 7-2 win.#'s 4-10 are in the link.
Edited by Junayd, August 19, 2009 - 12:56 PM.