Kevin Ding of the O.C. Register had a great interview with Kobe Bryant. Check it out.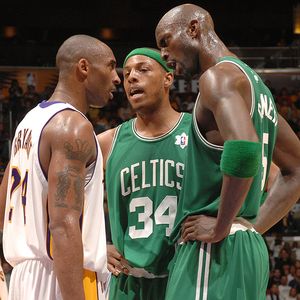 O.C. Register: Kobe Bryant is behind the wheel of this bus. Maybe it can become a bandwagon again, maybe not. What it will be is driven his way – and driven like him.
Whether he ever gets to do Happy Meal commercials again, there will be no homogenizing this deepest part of him, the one he sums up as, "Roll or get rolled over, you know?" That's the workout warrior with the 5 a.m. wakeup call, the snake who will burn a teammate six shades of red to teach a lesson in practice, the cutthroat closer who at 27 has just entered the peak of his career, according to Phil Jackson – and additionally sits just shy of 28, Jackson's ETA for maturity in all people.
In an exclusive interview with The Register amid final preparations for his 10th Lakers season, Bryant reflected on steppingstones, even his most categorical missteps. His focus, though, is on what he can do with a desire to be the best that is now "burning more than ever."
As Bryant lifted his hands in front of him, it wasn't a make-believe bus that he was guiding, but a jetfighter plane. Leaning slightly back, narrowing his eyes, Bryant even added the sound effects to make clear that his target has been acquired.
"I'm just locked in," he said.
Already so decorated and an intellectual man with a library of interests, Jackson has nevertheless re-enlisted as Bryant's wingman, choosing to fold that bad hip and creaky back into this seemingly most awkward fit, leaving many to wonder why.
Bryant has an explanation: They're not so different.